09:30

Pick-up from your hotel. Please be ready and waiting in the lobby of your hotel before the pick up time (depending upon the hotel location).

10:00

Jump on board a speedboat and cruise to the offshore Koh Lan island. Let's fly in the sky with [Paragliding]. This is your chance to fly like a bird.

10:30

Experience with undersea walking [Seawalker].

11:30

Arrived at the beautiful island "Koh Lan" (Coral Island) the largest island of Pattaya (7.5 kilometers from Pattaya). Walking on beach with large white fluffy clouds in blue sky and sunshine, or just laying down on beach chairs bathed in bright sunlight on lazy day, may also participation in water activities: [Banana Boat]: ride! Grab your friends and family, strap on your life jackets and get ready to smile, laugh and enjoy the wave-splashing adventure you worked for all year. [Jet Ski]: jump into the sea, maneuver gives you stirred up feelings (must be led by the coach).

12:30

Enjoy Thai-style meals, free activities after lunch, beach pictures, you can rest or walking on the beach and enjoy a variety of flower shop and small crafts as well as clothes, etc.

15:30

Saying goodbye to the beautiful and charming beach and island, return to Pattaya, transfer back to your hotel.
[Seawalker] Recommendation: ★★★★★
Discover what is going on the underwater by walking underwater – so easy that almost anyone can do it. Feel and witness the sea life of all kind. Unique diving system, we will escort you to dive down deep. A safe and exciting underwater adventure, Sea Walker is a unique diving system, provides an opportunity to observe the underwater world to a depth of 15 feet without certification, and without getting their hair wet. Participants actually walk on the bottom, while numerous exotic fish and sea life surround them.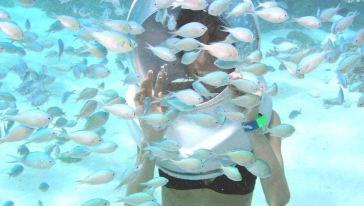 [Jet Ski] Recommendation: ★★★★
If you've never before hit the waves on a Jet Ski, you're missing out. There's nothing else quite like the feeling of bounding over the waves, feeling the splash of salt water and sea breeze on your face. Whether your Jet Ski adventure is a high speed wave bouncing adventure on your Destin vacation, or a slower cruise to enjoy the emerald waters and white quartz beaches on a weekend or day off, the top of the line Jet Skis at Wet-N-Wild will make sure that you enjoy your time.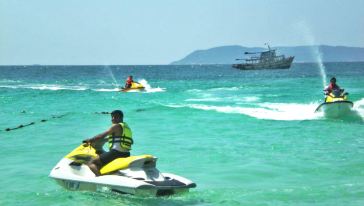 [Banana Boat] Recommendation: ★★★
Banana Boat rides are a great way for a family or group of friends to cool off and enjoy the water. The rides last approximately 30 minutes and can accomodate up to 6 paasengers per run. This is a unique attraction and just plain fun. Not everyone can say they've had the thrill of skimming across the water on a giant high-speed banana.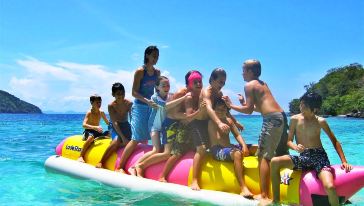 [Paragliding] (circle) Recommendation: ★★★★★
Paragliding behind speed boat, is a total kick, meaning your up there flying like a bird. The the wind in your face, ocean below your feet and nothing but sky above, what can I say. This activity is not for the faint at heart, when you come down your adrenalin will be pumping. What a rush. Cost for this little attitude. The trip may only last about a minute, but the after affects go much longer than that.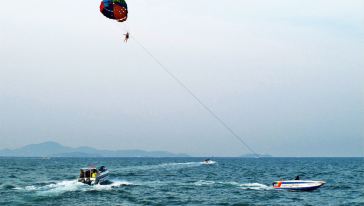 [Speed Boat]
Experience true version rapids boats, fast boats like driving a sharp knife, split the azure sea welcome edge, white waves rolling along the sides of the boat washed again and again fiercely slapping boats, speed extension to the stern, into a "Y" shape to the distant spread open. Sandwiched droplets of sea lunged, allowing you to experience the smooth cool seafood!